With one goal in mind to do some Thrifting at charity shops such as Oxfam and Red Cross.
Both stores had some amazing pieces - clobber from high street haunts like Topshop, Zara, Vintage bridal dresses (looked in top notch condition), vintage shoes such as Vivienne Westwood, Miu Miu, designer bags and some pretty jewellery too.
Surprisingly i didn't purchase anything. Which is the first!! hahaha!! But i know i will be returning back as it's no lie when you hear people come out with some divine stuff in charity shops…
If you haven't had a nose.. Time to do it now..
If not a charity shop, perhaps a vintage store or a flea market.
Whilst in the village.. couldn't help but have a look at the designer boutiques, restaurants and cars.. Yes Cars.. I have this mad addiction for cars especially those in a shape of a Lamborghini ( I will own that car in the future) Ferrari, Bentley, Aston Martin, Audi's, BMW 3 series, BMW 6 Series (absolutely love the 645i). As silly as this sound when i see one its like i shut down and go to heaven…hahaha!!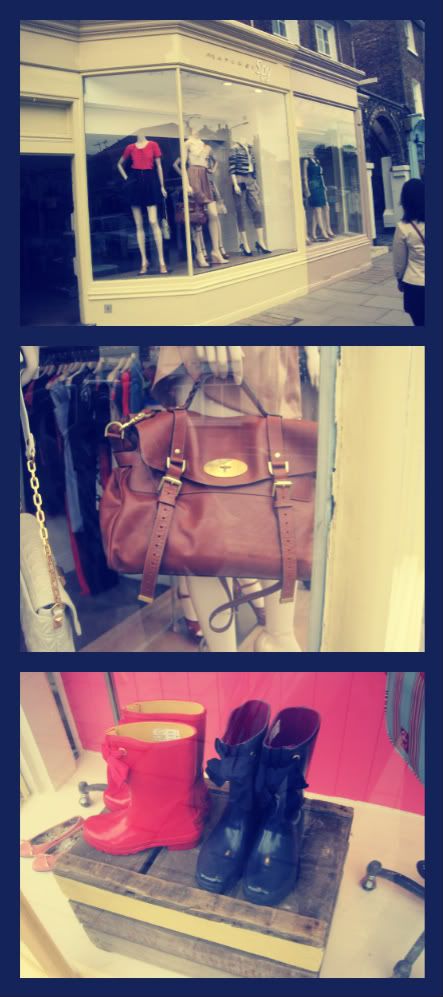 There is no surprise that i love Thai Food. Especially a mean Green Curry. (yummy) Came across Thai Tho, which happens to be a favourite eatery to Venus Williams when she is down in Wimbledon for tennis. I defiantly be returning to sample the menu and drink some cocktails...ooohh...
Went into DVF and when i tell you i nearly jumped out of my skin when i saw the assistant who had this seasons colour-blocking trend to a fine art. I knewww i should of taken a picture. But didnt.. Her outfit was almost as identical as this.
But instead of the red orange blouse it was a lime green, paired with the purple pencil skirt, (i cant remember if the shoes were black or blue) and a really nice lippy ( it must of been a coral orange). She looked like she just stepped out of the runaway/fashion shoot. I couldn't help but compliment her....